The Appropriate Prophet – Rebuking Ungodly Preaching – A Call to Repentance
We are calling many in the "street preaching" community to repentance and are biblically going prove that this "preaching", and participation in pagan holidays is ungodly and sinful. We are going to start off by answering the religious Christians arguments that attempt to quote Romans 14 and misuse it to justify mixing the holy and profane to show "God's love" to their neighbors in their "justification" of participating (unequally yoking) with them in preaching, pagan holiday's(their way with idols, etc) and other issues. They are incredibly divided on so many levels as they preach against OSAS/Eternal Security, for example, yet will freely yoke with these false preachers to keep the "unity". This is blasphemy and double mindedness at it's best! This is not a "doubtful disputation". It is sin! (Pastor Mark Bullen comments in the video and audios on preaching and pagan holidays). Text written by Jimmy Miller.
First off, "Matthew 18" is speaking to LOCAL church/fellowship matters only. Click here to see the biblical explanation as many are wresting this also, to their destruction! Don't wrest Romans 14, I address that below.
The "street preaching" community and their lack of accountability and discipline is incredibly grevious, so, after months of prayer, fasting and council, it's time to call you to repentance. Many of you, not all, are "lewd fellows of the baser sort" and need to repent.
Acts 17:5 But the Jews which believed not, moved with envy, took unto them certain lewd fellows of the baser sort, and gathered a company, and set all the city on an uproar, and assaulted the house of Jason, and sought to bring them out to the people.
This has gotten way out of hand and this reproval is long overdue. Sadly, they say even among the street preachers that one shouldn't judge how another preaches; and they won't listen to those who are not street preachers. They even go as far as boasting about how many arrests they have, how long they have "preached" on the streets, how many "views" or "subscribers" they have, etc. Is this humble?!?! If one does not live up to THEIR standards, you are cast aside like a fool. So, they don't hold each other accountable, they won't accept correction from those outside their circle, and they're not under the authority of a church to correct them and discipline them if they get out of line (which is what would be most Scriptural and ideal anyways). So where will the railing on authority and unclean talk end? How far could it go? There truly is no limit. This is the essence of cultism- and it's bringing great shame on the gospel. I will continue to believe and obey the bible and have been called the "weaker" brother, unrighteousely, so I am deferring this to brother Mark Bullen and praying you will listen to him.
1Ti 3:7 Moreover he must have a good report of them which are without; lest he fall into reproach and the snare of the devil.
In the video below, you will listen to a brother whom many of you have respect for as a wise man of God and are promoting publically. His name is Mark Bullen and he just put this call to repentance together for you to listen to. Please continue below after you listen. His email is mbullen@truevine.net for those of you who would like to comment.
THE APPROPRIATE PROPHET AUDIO HERE on biblcial preaching. Same as above just in non You Tube format.
AUDIO TEACHING ON X-MASS, EASTER AND OTHER PAGAN PRACTICES HERE
Discernment – "Liberty"
This godless "preaching" is NOT a "doubtful disputation". It takes discernment to make the distinction between truth and deceit when reading posts on social media and anywhere else for that matter.
The common argument is, "blah, blab,blah (fill in the blank) isn't mentioned in the Bible; therefore, it falls in the area of Christian liberty."
Let's study God's Word because the answers are all there. What we will find is that the conclusions of many false shepherds are exposed for their deception when they tell their followers that "we have liberty to do_____ or celebrate x-mass/halloween, etc. or preach with _______." Even when they are filthy talkers, unrighteousely provoking anger and malice, etc.". In grave sin themselves!
You must have Titus 2:8 Sound speech, that cannot be condemned; that he that is of the contrarypart may be ashamed, having no evil thing to say of you.
Are you "little in your own sight"? Are you truly obeying God or are you judging in a disrespectful and unbiblical way? Will you take reproval? Repentance is the reset button. Do be like Saul! Listen above…
Are you preaching to please men? Do you have Spiritual GPS (God's Positioning System) or are you following wicked wolves and emulating their madness? Listen above…
A Christian who is preaching/witnessing to the lost(he that is of the contrary part) must use wholesome words of our Lord Jesus, and the doctrines of the Gospel be expressed, as near as can be, in the words which the Holy Ghost teaches, and not in the enticing words of man's own wisdom. Such speech or language should be chosen that is plain, easy, and acceptable, and conveys just ideas of things which being agreeable to the Scriptures of truth, and the analogy of faith, cannot be justly found fault with. Giving sinners a reason to condemn you by not using sound speech is SIN. Absolutely no rotten speech or corrupt communication should proceed out of your mouth; nothing but what is pure, sound, graceful, and edifying; no filthiness, nor foolish talking and jesting, which are not convenient, and are rightly condemned.
Beloved, follow(IMITATE) not that which is evil, but that which is good. He that doeth good is of God: but he that doeth evil hath not seen God. 3 John 11:1
2Co 4:2 But have renounced the hidden things of dishonesty, not walking in craftiness, nor handling the word of God deceitfully; but by manifestation of the truth commending ourselves to every man's conscience in the sight of God.
Heb_12:14 Follow peace with all men, and holiness, without which no man shall see the Lord:
Tit_3:2 To speak evil of no man, to be no brawlers, but gentle, shewing all meekness unto all men.
1Th_5:14 Now we exhort you, brethren, warn them that are unruly, comfort the feebleminded, support the weak, be patient toward all men.
1Th_5:15 See that none render evil for evil unto any man; but ever follow that which is good, both among yourselves, and to all men.
Amos 3:3 Can two walk together, except they be agreed? NO! Stop yoking with and preaching with those you disagree with, unless they repent.
Be ye not unequally yoked together with unbelievers: for what fellowship hath righteousness with unrighteousness? and what communion hath light with darkness?
– 2 Corinthians 6:14
Therefore go out from their midst, and BE SEPARATE FROM THEM, says the Lord, and touch no unclean thing – 2 Corinthians 6:17
"Gospel of Love"
God's love can only be perfected in those who are obedient to Him in every area. This includes the company you keep.
He that saith, I know him, and keepeth not his commandments, is a liar, and the truth is not in him. But whoso keepeth his word, in him verily is the love of God perfected: hereby know we that we are in him.
– 1 John 2:4-5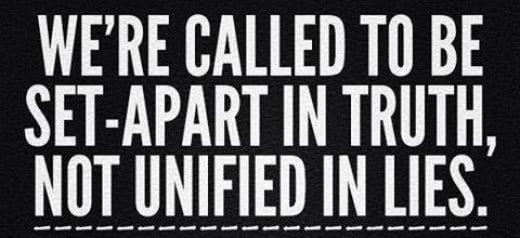 Without being obedient to the doctrine that God has given us, the truth will not be in us or preached by us. Without truth, we cannot have the knowledge of His love, nor preach it! Without the knowledge of His love, any "love" apart from His love is a wicked counterfeit that has no value or place in the Kingdom of God. When we have the Word of God embedded in our hearts, the truth will be within us and shine through us. This is the most import thing to have because truth is the umbrella over love, without, you are a naked mess. It's only then that we will know how to truly love our neighbors as ourselves and thus preach, fellowship and teach as God commands.
Jesus said unto him, Thou shalt love the Lord thy God with all thy heart, and with all thy soul, and with all thy mind. This is the first and great commandment. And the second is like unto it, Thou shalt love thy neighbour as thyself. On these two commandments hang all the law and the prophets.
-Matthew 22:37-40
Loving Our Neighbors
Christ clearly refuted the counterfeit "gospel of love" in the above verses.
Do you notice that he doesn't say that we are to love our neighbors first, but to love God FIRST?
How many falsely believe that they have God's love within them, but they actually have rejected God and His truth through disobedience?
The "preacher" will say "we need to keep unity for the 'gospel' sake as they excuse grave sins of disobedience and false doctrines of others they call "brothers"! They are no better than the institutional church that will please men by creating a "substitute" for halloween or x-mass, for example. They are under a false assumption that it's acceptable to imitate what they do, but in a religious "alternative."
They fail in that they "preach" in a way that the world either looks at as "entertainment" or it provokes anger, unrighteousely!
ABSTAIN from ALL appearance of evil. – 1 Thessalonians 5:22
The night is far gone; the day is at hand. So then let us CAST OFF THE WORKS OF DARKNESS and put on the armor of light. – Romans 13:12
The problem is that the religious indoctrinated ignore the totality of Scripture and base their twisted doctrines to justify this horrid "preaching" around verses, particularly Romans chapter 14. They seek to distort the Scriptures and teach something vastly different from the intended contextual meaning.
Those who twist Scripture will twist any, or the entire Bible, but they will often choose obscure problematic, or ambigious texts. The appeal of Scripture twisters tickles ears in their circle providing a pretext for self-indulgence and sin for their followers, as well as themselves. No one takes reproval to their determent and the "mob" mentality reigns when they are called to repentance.
Ye therefore, beloved, seeing ye know these things before, beware lest ye also, BEING LED AWAY WITH THE ERROR OF THE WICKED, fall from your own stedfastness. But grow in grace, and in the knowledge of our Lord and Saviour Jesus Christ. To him be glory both now and for ever. Amen. — 2 Peter 3:17-18
Peter's words are written so the followers of Christ will be on their guard and alert to those who twist the Word of God. He expects his brothers and sisters in Christ not only can, but also should be able to discern those who pervert God's Word. Every follower of Christ should be able to recognize those about whom Peter warns us.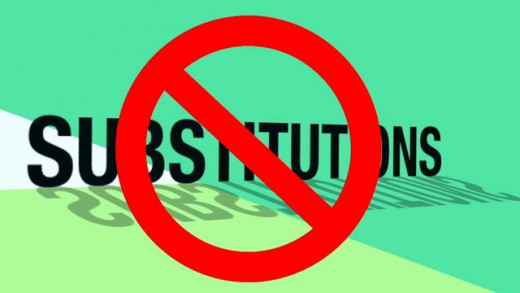 One person esteems one day as better than another, while another esteems all days alike. Each one should be FULLY CONVINCED in his own mind. – Romans 14:5
Substitutions
I guess they believe that we can substitute just about anything into the verse as long as we are "convinced in our own minds," then that justifies it!
They fail to understand that the context of Romans 14 is speaking about "special days", because the Jews had human traditions concerning FASTING twice each week. If someone didn't follow the pattern, they were regarded as less pious. Paul was simply declaring that what we do, or don't do is okay, FASTING OR NOT.
The "days" that Paul was referring to were the traditional fast days mentioned in Zechariah 7:5-6.
Paul never condoned the adoption of pagan customs and traditions to honor God with them nor did he condone hate-filled, filthy speech "preaching". This is going far beyond the intention of what Paul wrote. Peter warned us not to misunderstand Paul's writings!
To build doctrine around the twisting of Scripture according to one's own exegesis of a certain passages is not rightly dividing the Word. Many need to repent from this "Romans 14" excuse!
A simple reading of Romans 14 is about certain foods on fast days and how people's beliefs about fasting should not be interfered with. The fast days could be observed according to each believer's conscience. A man could eat, or not eat, keep the day, or not keep it. Each man could observe FAST DAYS, or not observe them, according to their own convictions.
Rom 14:20 For meat destroy not the work of God. All things indeed are pure; but it is evil for that man who eateth with offence.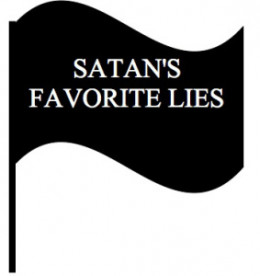 Liberty
To appeal to a particular passage such as Romans 14 in the name of "liberty" can lead to many accepting a sinful doctrine through the deceit of many who allude to this passage. The compromise and perversion of Scripture has led many down the wide path where they start adopting every sinful matter into the text. The ones that call anyone who questions them "the weaker brother", as they don't take biblical reproval, are actually the unfaithful and weak!
2 Co 7:1-2 Having therefore these promises, dearly beloved, let us cleanse ourselves from all filthiness of the flesh and spirit, perfecting holiness in the fear of God. Receive us; we have wronged no man, we have corrupted no man, we have defrauded no man.
Matters of indifference, doctrine and sin can be thrown into the mix and we get a cesspool of abominable practices.
One man esteemeth one day above another: another esteemeth every day alike. Let every man be fully persuaded in his own mind. He that regardeth the day, regardeth it unto the Lord; and he that regardeth not the day, to the Lord he doth not regard it. He that eateth, eateth to the Lord, for he giveth God thanks; and he that eateth not, to the Lord he eateth not, and giveth God thanks. – Romans 14:5-6
This is fatal exegesis to accept sinful doctrines and practices and do it all in the name of God. The like minded "preaching" group will decide what can and cannot be put on their formulated list of "authorized" liberties when it comes to fellowshipping "sins." Try to penetrate their group and you are mocked, called "rookie", "weaker brother" or told to stay out of their way if you are not "doing it like them"! They are the least likely to be reproved because of this mob mentality. Repentance is rare but ALL things are possible with God and MANY are praying for them.
The question must be asked, can a disciple of Christ follow his own conscience being fully assured in his own mind concerning sinful doctrines and its practices?
This answer is NO; otherwise, truth would be subjective from one person to the next. Shameful!
Unfortunately, the traditions of man and "mentors" arbitrate what they deem to be right and wrong according to their own seared consciences.
Your glorying is not good. Know ye not that a little leaven leaveneth the whole lump? Purge out therefore the old leaven, that ye may be a new lump, as ye are unleavened. For even Christ our passover is sacrificed for us: – 1 Corinthians 5:6-7
Righteousness exalteth a nation: but sin is a reproach to any people. – Proverbs 14:34
The modern church system and idolatrous, disrespectful revilers have accepted what is shameful and blatantly justifies their actions in their "liberty" and "love" for their neighbors.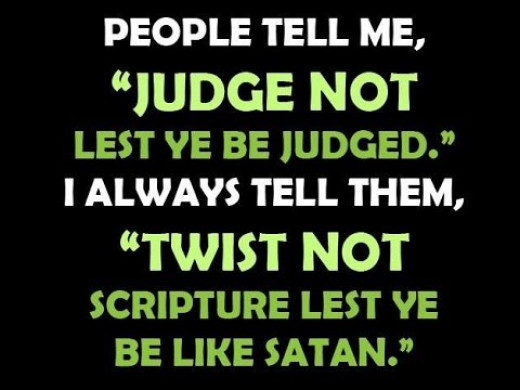 Let not him that eateth despise him that eateth not; and let not him which eateth not judge him that eateth: for God hath received him. – Romans 14:3
These verses are used as an excuse to receive sin into the fellowship/preaching circle when God does not receive them into His. The blind indoctrinated pew warmers tell us that we are not to "dispute," or "judge" because they are disputable matters, why on earth are you in your clan!?!?!
The error is that they are NOT authorized disputable matters attested in Scripture because disputable matters are not in the realm of the sin of breaking God's laws.
The context of Romans 14 are on matters that are neither required, nor prohibited (wrong or sinful). In verses 14, 16 and 20, they are matters that are deemed by Paul as "good," "pure," or "clean" in receiving one another in our fellowship based on Scripturally authorized liberties, NOT on sinful matters and behaviors that imitate evil. To shift from one category to another and call it a "liberty" is in grave error.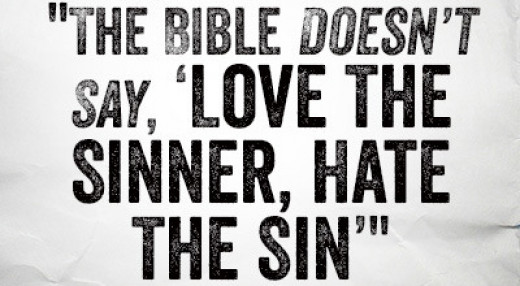 Love
The professing church gets away with it every time. They take "love" and turn it into "fornication" by desiring the ways of the world instead of being obedient to God's ways by walking the narrow path.
The church system of today has an ecumenical agenda from the pit of hell yoking with the world with their false "unity." The false gospel of "love" is accepting being reconciled with one another by carnal subjective reasoning arbitrarily apply their own rules to passages such as Romans 14.
In the case of halloween, x-mass, unngodly crude preaching, etc, the passage is not applicable in our liberty in Christ because the preaching and or the holiday never was, and never will be "clean," "pure," or "good" as its origins never came from God, but is in the category of abominable practices.
There is and never will be a substitute, or alternative no matter how many ways you want to "Christianize" it.
And many shall follow their pernicious ways; by reason of whom the way of truth shall be evil spoken of (BLASPHEMED) – 2 Peter 2:2
"Know ye not that the unrighteous shall not inherit the kingdom of God? Be not deceived: neither fornicators, nor idolaters, nor adulterers, nor effeminate, nor abusers of themselves with mankind, Nor thieves, nor covetous, nor drunkards, nor revilers, nor extortioners, shall inherit the kingdom of God." – 1 Corinthians 6:9-10
Partaking in doctrines that twist Scripture solely based on the rhetoric and sophistry of false teachers meant to muzzle those who uphold the truth and expose sinful behaviors leads to spiritual death.
Beloved, when I gave all diligence to write unto you of the common salvation, it was needful for me to write unto you, and exhort you that ye should earnestly contend for the faith which was once delivered unto the saints. – Jude 1:3
God has demanded that we are to be a separate people and the truth has been made clear. The modern church and other sinful preachers of lasciviousness not only justifies their sins, but has pleasure in them as well. Truth must be put into practice. To receive someone who takes pleasure in the ways of the world is also a partaker in their deeds.
If there come any unto you, and bring not this doctrine, receive him not into your house, neither bid him God speed: For he that biddeth him God speed is partaker of his evil deeds. -2 John 1:10-11
Those who desire truth will not allow Romans 14 to be a twisted eisegesis as a compromise for sin.
Throwing "hellydays" and filthy mouthed preaching into the mix is simply a license to sin. REPENT!
Mat 5:44 But I say unto you, Love your enemies, bless them that curse you, do good to them that hate you, and pray for them which despitefully use you, and persecute you;
Mat 5:45 That ye may be the children of your Father which is in heaven: for he maketh his sun to rise on the evil and on the good, and sendeth rain on the just and on the unjust.
Mat 5:46 For if ye love them which love you, what reward have ye? do not even the publicans the same?
Mat 5:47 And if ye salute your brethren only, what do ye more than others? do not even the publicans so?
Mat 5:48 Be ye therefore perfect, even as your Father which is in heaven is perfect.