The Marriage Supper of the Lamb!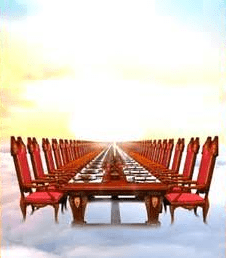 Let us be glad and rejoice and give Him glory, for the marriage of the Lamb has come, and His wife has made herself ready." And to her it was granted to be arrayed in fine linen, clean and bright, for the fine linen is the righteous acts of the saints. Rev 19:7-8
She made HERSELF ready! The Righteous acts of the Saints are KEY in understanding who will and who will NOT be present at this wedding feast in Paradise. The repeat after me, faith alone crowd in the Churches THINK they are going to show up at this event in their 'filthy rags 'Clothed in the Righteousness of Christ! However Scripture contradicts them, for many are called but FEW are Chosen. Matt 22:1-14 explains why, the King (God) has the Wedding feast prepared, but those invited (the professing Church) had 'other things to do, (dead works, false promises) so He sent out His Servants (messengers of the Gospel) to gather among the highways and byways (the world at large) both good and bad. Thus MANY came but FEW had 'made themselves ready' in Righteousness and true holiness. (Eph 4:20-24)
This is why the Professing Church will be 'cast into outer darkness still wearing their filthy rags, speechless, wondering what went wrong with the Magic Cloak their preachers promised would suffice. They failed to understand that at the end: 'He who is unjust, let him be unjust still; he who is filthy, let him be filthy still; he who is righteous, let him be righteous still; he who is holy, let him be holy still. Rev22:11
His Bride is NOT made Righteous and Pure at the wedding supper, She is ALREADY without Spot and Blameless, fully prepared for His coming!
Sadly this concept it entirely lost to the present day professing Church. They've been taught that all their 'Righteousness is only 'filthy rags in the sight of God and if they 'try to actually be Righteous (by being pure, holy and blameless) then they are guaranteed to be cast into outer darkness as legalist heretics! But Christ is not returning for a people 'Wretched to the core wallowing in piles of stinking rags, pretending that His Righteousness Covers them. Rather He is Coming for those 'looking forward to these things, diligent and striving to be found without spot and blameless! 2Pet3:14. Christ gave this illustration time and again throughout Scripture. That as a husband expects his bride to be pure and chaste in their marriage so Christ expects to find His Saints the same.
His Bride is not those committing adultery with the world, fornicating with the idols of vain amusements, still double-minded in their motives. That describes a people with 'Soiled garments, cold, dead and lukewarm already spewed out of His mouth for their refusal to Repent! BLESSED are those who are called to the Marriage Supper of the Lamb!
Blessed are those who do His commandments, that they may have the right to the tree of life, and may enter through the gates into the city. But outside are dogs and sorcerers and sexually immoral and murderers and idolaters, and whoever loves and practices a lie. Rev22:14-15
Filthy rags professing Christians will never understand the imperative of Purity and Righteousness, even in the constant illustrations of marriage given in Scripture. Their earthy relationships are in shambles and marriage vows are seldom taken seriously beyond the flowery church service. The concept of Purity and devotion between a man and woman is difficult for them to apply in their personal lives. It would stand to reason that a husband and a wife desire to be loved by their spouse with single-minded affection. They do not want to 'share their devotion to one another with 'others outside the marriage. (at least that's the ideal of a real marriage in a reasonable sense) And a wife certainly would not want her efforts to please her husband in all that she says and does considered; 'Filthy Rags! Imagine also standing at the altar of marriage reciting your Vows and the groom saying to his Bride: 'You know I'm not perfect, I'm just a sinner saved by Grace. So I cannot be trusted to be faithful to you for life, I am likely to lust after other women, commit adultery on occasion and run around with my worldly friends from time to time drinking excessively and doing vile things. So I'm not going to stand here and make some 'Self-Righteous vow we both know is hypocrisy because all my attempts to please you and remain faithful to our marriage are nothing but filthy rags'.
Utter foolishness, you say? Most certainly, WHO in their right minds would say such a thing to their perspective mate for life? But isn't that what the 'Churched folks are saying…. 'We all sin, we're going to sin, no one's perfect and if we claim to have no sin we're liars' That's the common excuses of Professed Christians today 'supposedly betrothed to the Lord adorned in their 'filthy rags claiming to be 'Clothed in His righteousness and having NONE of their own doing? (as the 'Righteous Acts of the Saints!)
Imagine also in the actual marriage a husband returning home from a hard day's work and his wife having prepared for him a sumptuous meal of his favorite dishes, presenting herself to him in her finest array with open arms of love and he waving his arm in her face and calling all her efforts 'filthy rags, and then rebuking her for even making the attempt to please him in the first place! Ridiculous you say? CORRECT.
But all your excuses add up to saying JUST THAT! That 'any effort you put forth to be Holy and Righteous without blame toward God and man is filthy rags and it's 'safer for you to remain in your sinful condition (you think is humble) 'Covered (by magic!) in His Righteousness while you continue to commit adultery with the world. (a very dangerous assumption!)
This is the VERY reason James says in his Epistle to people of this warped opinion:
Adulterers and adulteresses! Do you not know that friendship with the world is enmity with God? Whoever therefore wants to be a friend of the world makes himself an enemy of God. Or do you think that the Scripture says in vain, "The Spirit who dwells in us yearns jealously"? James 4:4-5
Do you REALLY think you can live in Sin and shame and that it 'humbles you to constantly fall into vile and unclean habits of the flesh, and that Pleases the Lord? True humility is expressed in turning away from these things and coming CLEAN with God! Sin will only harden your heart against Him.
Therefore submit to God. Resist the devil and he will flee from you. Draw near to God and He will draw near to you. Cleanse your hands, you sinners; and purify your hearts, you double-minded. Lament and mourn and weep! Let your laughter be turned to mourning and your joy to gloom. Humble yourselves in the sight of the Lord, and He will lift you up. James 4:7-17
In the Lord's sight you have 'adulterated yourself with the world, He calls you a double-minded Sinner in need of a bitter Repentance. But you're saying you could in a marriage relationship committed adultery against your spouse and then merely 'confess it as an 'apology and go on without PURIFYING you heart and proving your intentions by cutting off any contact with the other person and coming CLEAN before you make any attempt toward Reconciliation of the marriage. WHY is it any different with God? In Truth it is Not! You PROVE your Repentance by your Deeds, God is not going to receive you as His Bride while your still committing adultery with the world! In a 'real marriage the relationship can only exist in Purity and absolute devotion free from double-minded intentions. That's why the Bible equates 'friendship with the world as Adultery against the Lord! You can't have the 'Best of both worlds (what you think is best) and maintain a relationship with your earthy spouse and you can't be filled with wicked ways and un-righteous thoughts and be in Right standing with the Lord.
You DO what is RIGHT to keep your marriage in tact, you DO it to keep your job, you DO it to stay OUT of jail! So WHY when it comes to God you DON'T have to DO IT??? Because the preacher told you He did it for you, is that the reason? Then WHY does He constantly tell you to DO IT? 'Blessed is the man who hears the Word of God and Does it!' Lk11:28, Matt12:48. Go and tell your wife or husband it's not necessary for them to DO anything to please you or attempt to win your favor or even 'try to remain faithful and see how LONG your marriage lasts!
I fear the distorted mentality of the common professing Christian today handles their earthly relationships in the same manner they supposedly 'believe in Jesus….like its 'trash! At least that's what is witnessed among them in their ruined marriages, abused children, drunkenness, filthy addictions and general disregard for common decency. Its filthy rags and the wretched man 24/7 ringing from their pulpits.
No matter what they may say about living right and being holy it's always under-minded with the SAME excuses that man is born inbred with Sin and can't help himself, but he's covered anyway by the supposed 'Finished work' of Christ. BUT what is His Finished Work? It's Certainly NOT a Substitution for your Obedience! Otherwise WHY does His Bride have to MAKE HERSELF READY for His Coming?
His people will be found by Him holy and pure not cloaked and covered, filthy underneath. They have already PURIFIED their hearts by Obedience to the Truth and are Walking in Righteousness deeds. The phony Church calls them 'Self-Righteous (trying to save self) and glories in their rags. But when the King finds them 'un-clothed hanging around His feast, they will Suffer the consequences of believing a lie.
The Bible equates the marriage relationship between a husband and wife for a reason; as we are 'accountable to one another to keep the relationship in tact on 'condition of our faithful devotion, so we also stand fully responsible to the Lord for our actions. But I fear in the Church mentality this comparison is incomprehensible because, in their twisted System of belief, Christ has made a 'Provision in their marriage (to Him) to 'Cover their sinful inability to remain faithful and offered to 'Cloth them in His Garments of Righteousness and Purity. So the 'earthly illustration of marriage doesn't apply, because the husband cannot enter into a marriage with an unclean wife 'providing her with disguise to 'hide her immorality form the world and then 'pretend she's being faithful by proxy. BUT in the 'Church mind-set Christ CAN offer this type of arrangement and that's why they will ALWAYS have another excuse in the face of His Truth. (Dismantle this Lie in their minds and perhaps you can show them why they must stop sinning and obey Christ to enter His Kingdom)